In terms of locations for an outdoor kitchen, Las Vegas is one of the best places imaginable. The climate perfectly lends itself to cooking and grilling outdoors and there are a lot of benefits to doing so. Some you may not have even thought of before. In this post, we're looking at six reasons for outdoor kitchen in Las Vegas and reviewing various outdoor kitchen designs.
What is an Outdoor Kitchen?
An outdoor kitchen is pretty self-explanatory in many ways, but some people are confused about what it means. Many of us have a grill, smoker or BBQ outside, but an outdoor kitchen design is different. Everything you can get indoors you can get outdoors too, you'll just be changing your search to outdoor cabinets as opposed to indoor kitchen cabinets in Las Vegas.
An outdoor kitchen design will usually have some sort of grill, may have a cooktop, and can also have other installations such as an outdoor faucet. These areas are often incorporated into seating areas so that you can entertain guests while you are cooking your food. It's similar to a grill or BBQ, only with more in terms of cooking space, surfaces and cabinets. All the functionality you would expect from an indoor kitchen can also be installed outdoors.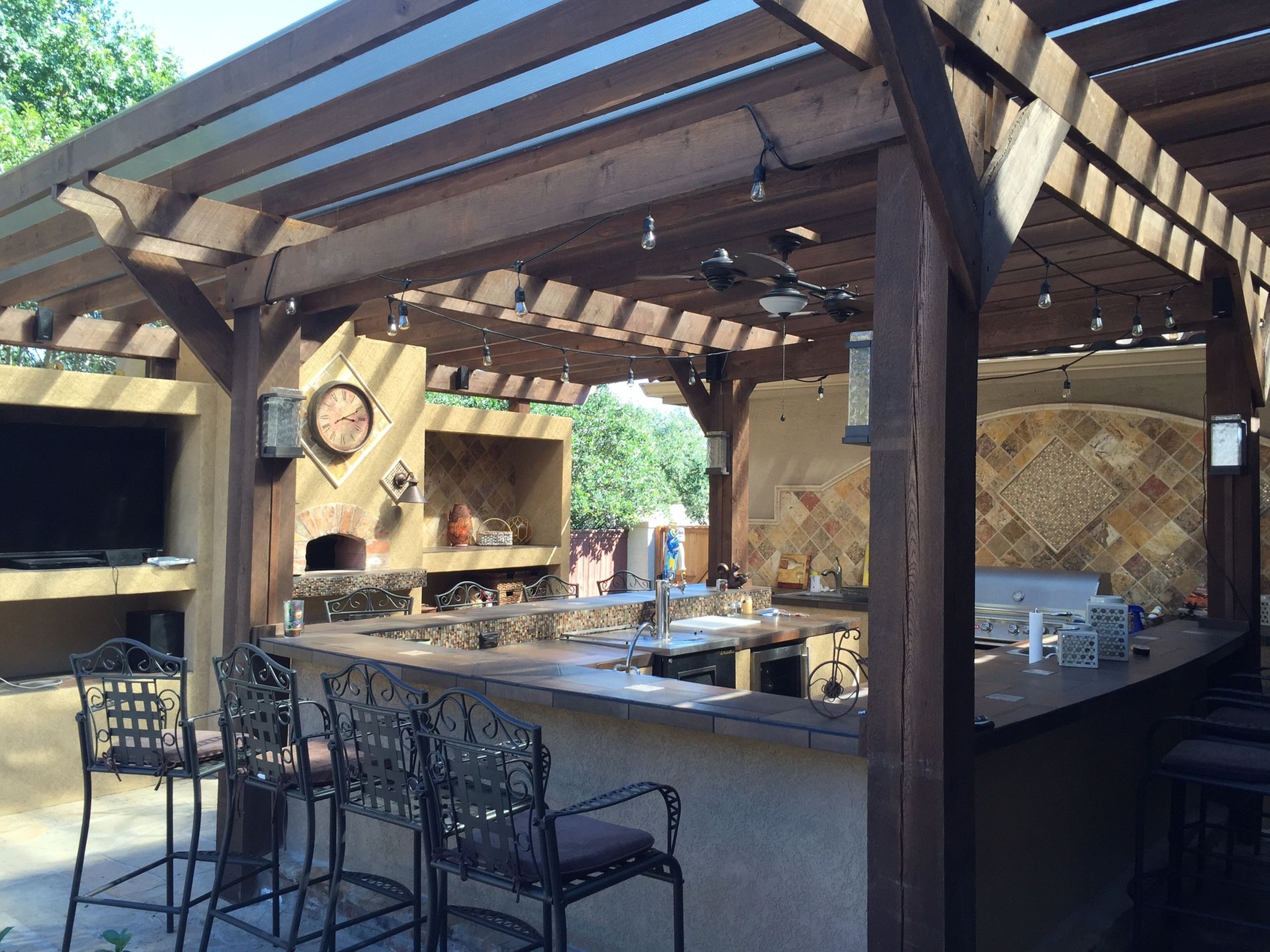 Saves on Utility Bills
Constantly cooling your kitchen and the rooms nearby is costly. Outdoor kitchens in Las Vegas are partially popular due to the fact that it is so hot indoors. Cooking inside can add to the temperature and mean you have to run an air conditioner all the time. Cooking outdoors can avoid this issue and in turn save on utility bills.
Some outdoor cookers may also run on fire which can cut the cost of running an electric cooker.
It keeps the smells outside
All that food and drink in our kitchens can quickly build up a smell, this is why we have extractor fans. Not all of the smells of cooking are wonderful, and you need to think about cleaning, too.
Smells can linger in the short term but also get ingrained within wood or other materials you've used in the kitchen, making them smell in the long term, too. Things like cabinets can soak up the smells overtime when indoors. Outdoor cabinets aren't in confined spaces so this is a lot less likely. If you've ever looked into kitchen cabinet repair or the cabinet refinishing in Las Vegas cost then you'll know it's important to protect your cabinets rather than constantly replace them.
Great place to entertain
Outdoor kitchens in Las Vegas are a perfect place to entertain guests. Cookouts are part of the culture and whatever meal you're cooking, doing it outside with your guests relaxing nearby is more enjoyable then slaving away in a kitchen indoors.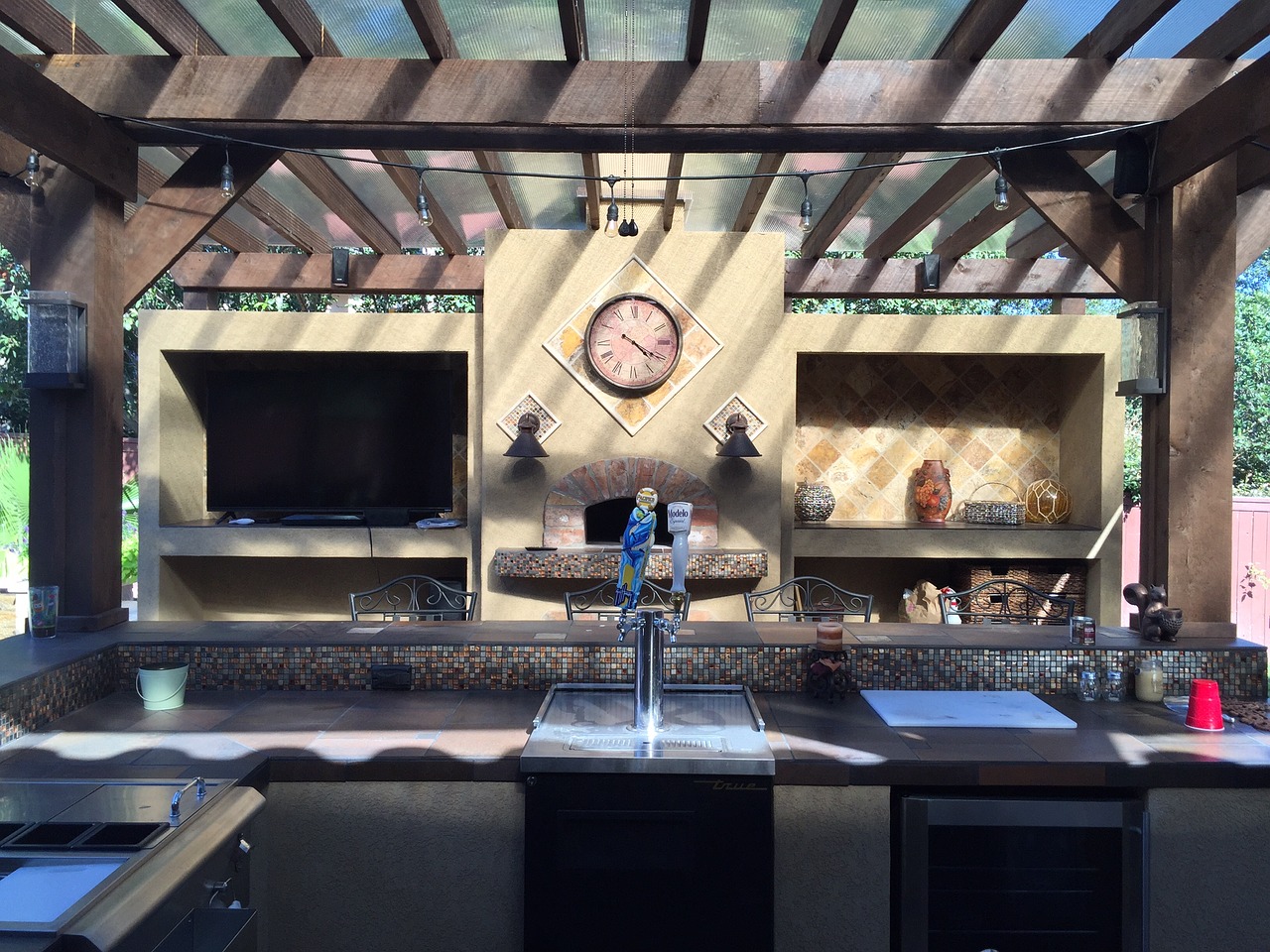 Easy to clean
Outdoor kitchen design requires a lot less maintenance than indoor and can be cleaned down with ease. You don't need to worry so much about what is getting wet, for instance, so you can spray down outdoor cabinets and not have to worry too much.
You can also be liberal with cleaning materials, as you can use plenty of bleach and other cleaning products knowing it is a ventilated area.
Also, the footfall of the outdoor area is likely to be less. No muddy paws or feet coming through while you're trying to clean the floor or surfaces.
Save Money on Restaurant Meals
It can be so tempting to eat out or order food in when it is hot. In Las Vegas, it is almost always hot! Nobody wants to spend time in a muggy kitchen. However, with an outdoor kitchen, you can enjoy the process of cooking again, saving you money on ordering food from restaurants. After all, what can be cozier than your own backyard patio with a custom build fire pit that you and your family can gather around?
Increases Value of Your Home
Outdoor kitchens in Las Vegas are very desirable and add a lot of extra functionality to your home. When the time comes to sell your home, people might be excited by the installation, and the fact you effectively have an extra outdoor room. This can increase the valuation you get for your home and ultimately the price you receive. Numerous studies have shown how paying close attention to the outdoor aspects of your home can increase the value and sellability of your home.
https://majesticcabinetsllc.com/wp-content/uploads/2019/08/patio.jpg
1920
2560
Owen Wright
https://majesticcabinetsllc.com/wp-content/uploads/2019/01/logo-1.png
Owen Wright
2019-08-09 10:22:07
2022-11-25 14:44:10
6 Reasons You Need an Outdoor Kitchen in Las Vegas