Spooky Season is fast approaching, and that means it is time to start preparing your Halloween decor. If you are looking to host a get-together to celebrate the holiday and want to serve some tasty snacks to your guests, you may want to consider crafting a spooky Halloween kitchen in your home.
Putting together your own DIY Halloween kitchen decor is a lot simpler than you would think; here are some of our best decorative ideas for your Halloween party!
Start by Decorating the Windows
An easy place to start designing your horror-themed kitchen is the windows. Surround your party area with creepy decorations, and you will instantly set a spooky mood for your guests.
Ideal Halloween window decorations are spider webs and plastic spiders; they're easy to apply, suit being on windows and some of your guests are sure to get a fright thinking you have actual arachnids crawling around!
Decorate Your Kitchen Cabinets for Halloween
We are passionate about kitchen cabinets here at Majestic Cabinets, and we have a few tips on how to decorate yours for Halloween!
Hang a few orange kitchen towels from your cabinets to tie into the orange-themed holiday of Halloween to set the mood, and stick a few Halloween decorations to your cabinets to really make them pop.
Apply fake blood, hang a plastic bat or two or plastic barbed wire, and your kitchen will look like a murder scene in no time.
Your kitchen cabinets shouldn't always look like a horror movie set, though; if you are looking to upgrade your kitchen cabinets, contact us and get a quote today!
Consider Shelves With a Creepy Touch
Adding a few Halloween-themed decorations to your shelves is an easy way to create a spooky atmosphere in your kitchen area with minimal fuss.
Pop a few plastic skulls, jack-o'-lanterns, or other scary props in and amongst what you usually keep on your shelves, and transform your kitchen into an eerie environment.
Hide a few decorations inside your cabinet's shelves to get a jump scare or two out of your poor guests when they go fetch themselves a glass or a drink.
Add a "Trick-or-Treat Board" to Your Spooky Halloween Kitchen
Food is a must to keep your guests happy if you are looking at hosting your Halloween festivities in your kitchen. A Halloween Trick or Treat Charcuterie Board is an easy method to keep your guest's tummies full all night long!
Since Halloween is all about candy, filling your Trick-or-Treat Board with sweet treats is essential! Sour worms, Skittles, and Twizzlers are not only delicious options but are also super vibrant in color, making them an excellent fit for this colorful holiday.
If some of your more health-conscious guests are not into sugary treats, consider providing healthier colorful alternatives such as melon cubes or orange slices, which are not only on theme due to their orange color but taste great and are good for you too!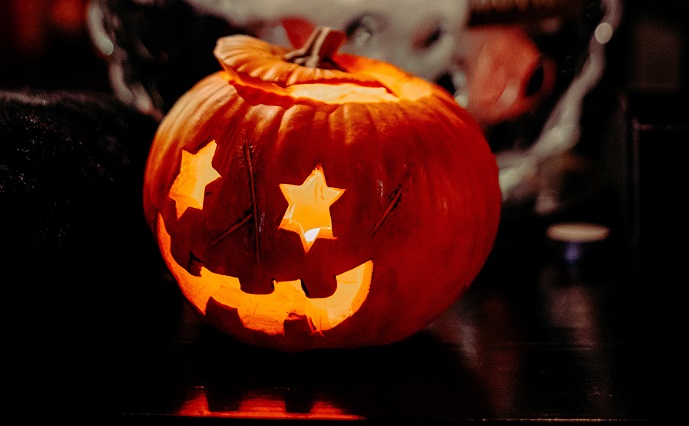 Don't Forget About Freaky Faced Pumpkins
Jack-o'-lanterns are a staple of Halloween tradition for a good reason. These eye-catching and visually striking decorations are fun to make and instantly add to the overall Halloween aesthetic.
When it comes to decorating your kitchen for Halloween, no spooky season decor would be complete without a glowing jack-o'-lantern or two.
Use the Kitchen Curtains Creatively
The age-old hiding behind the curtain cliche is a staple in the world of horror movies, so why not integrate this tactic into your Halloween horror kitchen to really get the hair on your guest's neck standing up?
Hide a decorative skeleton or bloody hand behind your curtains, and the poor guest who is unlucky enough to take a peak will be left with goosebumps.
Choose Classic Halloween Colors For Horror-Themed Kitchen
Most important of all, when trying to create the spooky Halloween vibe, is to use the correct colors. Orange is by far the most associated color with Halloween, so make sure to prioritize having as much orange as you can in the form of carved pumpkins, candy, and general decor.
Due to their dark and gory nature, black and red are also synonymous with Halloween. A little bit of fake blood goes a long way in creating the most unsettling kitchen space you can for your party.
Black is a great color as it is not as visually striking, so it can be used to get a scare or two out of your guests sneakily; consider hanging toy spiders or bats from your roof to catch partygoers off guard.
When Should You Start Getting Ready for Halloween?
Halloween is a super popular holiday worldwide and has developed into a cultural phenomenon due to its close association with horror movies.
This is why getting started on your Halloween preparations early is crucial, to make sure you attain all the perfect ingredients for a night of fun and fear!
https://majesticcabinetsllc.com/wp-content/uploads/2022/09/jen-theodore-s8LR5LrqqY8-unsplash.jpg
466
700
Owen Wright
https://majesticcabinetsllc.com/wp-content/uploads/2019/01/logo-1.png
Owen Wright
2022-10-01 13:18:42
2022-12-06 01:30:27
Easy Halloween Kitchen Decor Ideas for This Autumn