In this guide, we're exploring how to organize bathroom cabinets in a way that is functional, trendy, and keeps everything necessary within easy grasp in your bathroom. Whether you like the look of baskets with towels and other bathroom items on display, or you'd rather keep things neatly hidden away, you can make this choice yourself with some storage solutions.
These are the sort of jobs you probably won't think very much about when you first decorate, but it's a good idea to try and incorporate some tactics to make the best use of your space and to create both a great look and fit more into your kitchen without making it look cluttered. Of course, clutter looks like a mess to most of us, but fortunately, A bathroom is rarely designed to be ample space within the house. Space is much better utilized being part of a bedroom. This means that you should look to make use of all the tiny little holes spaces within your bathroom.
Many of us have space under the sink, and an under sink organizer can be an ideal space for storage products and disposable items such as toilet tissue to be stored. If you keep this sort of thing on display in your bathroom, there's not much point in decorating it in the first place. Even if you have a beautiful design and finally decided on some stunning bathroom color ideas, you need to make sure it is displayed. The ideas we provide are great for small bathrooms and not only. Having clutter is just going to end up detracting from your beautiful painting.
You can also use cabinet doors, and even specific storage units to hide things out of sight. Why not add a mirror with cupboard storage space to put some of your items within? During bathroom remodeling, you can add these clever additions. It gives you that extra bit of space to keep things out of sight but still convenient to use. A lot of people use these as meditation, as a clean house supports your mental health.
Add Hooks for Your Tools 
You might not have vast amounts of tools in your bathroom, but many people have things like squeegees for cleaning. You can add hooks for these, so they aren't taking up valuable cabinet space. Hooks are also standard for things like gowns and even towels. This is one of the best small bathroom tools for those who need to make use of a tiny little space and still store a lot of items they use daily in their bathroom.
Divide Your Drawers
There's really no point in exploring how to organize bathroom cabinets if you're not going to actually go to some effort to give everything a home. The drawer space that you have in the bathroom should not be wasted. Your cabinets can be divided in any way you wish, but it is a good idea to use actual drawer dividers to split the space in each.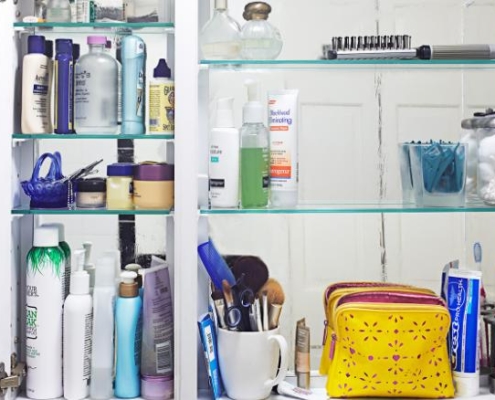 What's the point in this? Well, it avoids the problem a lot of us have, which is just shoving things in drawers and forgetting about them. It's easy to just put something in a drawer when you've used it and not think about it again for months. This is how drawers get disorganized, and it is hard to find the things you need. If you're the sort of person with drawers full to bursting all over your kitchen and bathroom, you probably need to accept that things like dividers are vital. Ultimately, it makes your life a little easier. The same can be said of the countertop space that is within your room. A bathroom counter organizer is a great way to separate your makeup from your soap, your cleaning products, and your nail clippers.   
Practice Makes Perfect
You might not get all of your organization perfect the first time. If you're not good at organizing your bathroom naturally, then you might find that you have stored things in some places that don't make much sense. There's nothing wrong with spending a rainy Sunday rearranging the bathroom so that it looks right and it is easy to find everything you need.
The sort of people who like to be organized will have no problem practicing this by organizing different rooms of the house. It's incredible how much extra space you can have if you manage to store things in suitable spaces.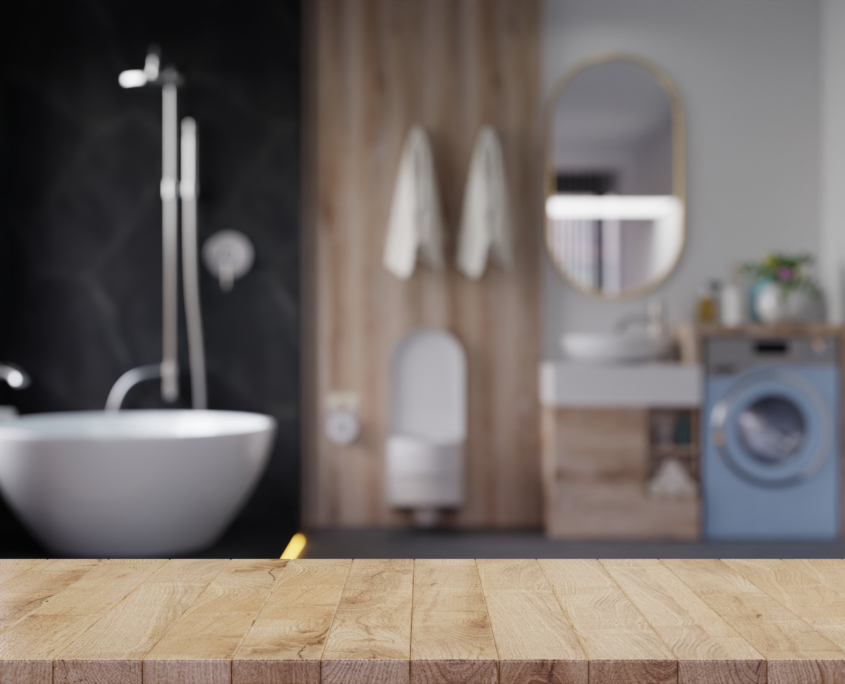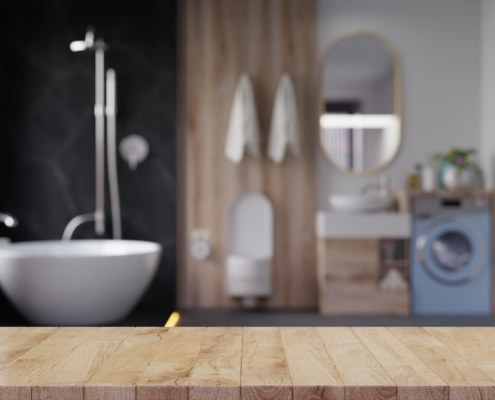 Hang a Shower Caddy
Shower caddies can look great; specific models can add some decor to your bathroom. Go for a vintage look or something that has a more modern look, depending on what suits the design of your bathroom.
A shower caddy also has a particular purpose; it doesn't matter if things get wet! If you're looking for somewhere to store your shampoo or shower gel or even moisturizer, it doesn't matter if it gets wet on the caddy, as it will just dry out. This is why many of them have grates underneath to let water drain. One part of knowing how to organize bathroom cabinets is knowing that you need an area where things can get wet, and it does, of course, matter! You don't want to put your shower gel in a wooden cabinet after every use.
A shower caddy also makes use of a space that otherwise wouldn't be used. The shower doesn't have anywhere you can store things, but you can hang a caddy, and some of these are surprisingly big, ideal for storing any plastic bottles.
Buy Specific Holders and Hangers
As well as thinking about how to organize bathroom cabinets, you can add some specific holders and hangers. A lot of your bathroom items, besides those stored in a shower caddy, can also be stored in their holders. This is a way to make things neater while leaving valuable space in your cabinets.
You can buy holders and hangers assets, or alternatively use baskets, which can provide the ideal space for you to store things like towels and facecloths.
Labeling is Key  
If you are an organization fanatic, then you can use labeling to help with your bathroom. This is good for your storage and knowing where you need to keep things organized, but it is also fantastic for any visitors. If someone wants to know where they're going to find some fresh soap in the bathroom, for instance, labeling can help.
We're not suggesting that sticky labels visible everywhere are how to organize bathroom cabinets the most effectively. It's better to use them discreetly. Why not use the labels on the bottom of the shelves within your bathroom cabinets?
Conclusion
When you take the time out to organize your bathroom cabinets, you'll probably realize a few things about your current storage solutions. For one, you might well find that there are a lot of different things in your bathroom that simply don't need to be. Having a good clearout is a way to make sure that you can only keep the essentials within grasp, and you don't have a tiny amount of perfume you don't use anymore, taking up space in your cabinets. And if you need to refresh your cabinets or just a small fix, contact us for the cabinet repair. 
There are many different methods to allow you to get an organized result. Our tips can help you to create a more functional bathroom, but also one that looks far better to you and your guests! Keep all those sensitive products out of sight, and allow people to enjoy the incredible remodel you've just had or the stunning design and decor in your bathroom.
https://majesticcabinetsllc.com/wp-content/uploads/2021/05/Bathroom-Cabinets-Organization.jpg
2000
2561
Owen Wright
https://majesticcabinetsllc.com/wp-content/uploads/2019/01/logo-1.png
Owen Wright
2021-05-20 21:34:00
2022-09-28 11:47:05
How To Organize Bathroom Cabinets: Trendy & Functional