Do you need a kitchen layout that saves space? If you don't have much room available, don't hesitate to consider a galley kitchen design. It doesn't matter if you are doing the project from scratch or remodeling an existing space. Here's what you should know before you start a galley kitchen remodel project!
What Is a Galley Kitchen?
Galley kitchens originate from ships and other transportation options, such as trains and planes. They refer to kitchenette areas used to prepare food for the crew and passengers. The specific "galley" design involves counters, cabinets, and appliances on one or two sides.
There would be a hallway that serves as a traffic aisle between them. The alternative name "corridor kitchen" comes from that mandatory hallway. The fixtures could be on a single side or both if there's sufficient space.
What Are the Pros and Cons of a Galley Kitchen?
Why would you consider a galley kitchen remodel? Here are the main advantages of this design:
It saves space. This kitchen idea is perfect for tight areas, especially if the room available is long and narrow.
Everything is nearby. Whether you need something from the fridge or a utensil, you won't have to take more than a few steps to reach it.
It's an affordable design. Kitchen remodeling can be expensive. If you are on a tight budget, a galley kitchen makeover is a smart move, especially since it can save money on flooring and cabinets.
You get an efficient and safe kitchen. Most interior design experts suggest clustering major kitchen hubs like electrical and water. It optimizes the workflow and makes your kitchen safe.
Before you remodel the galley kitchen space, here are some downsides to consider:
It doesn't offer excellent traffic flow. The hallways in most galley kitchens.  kitchen remodel ideas are narrow, making them crowded for two people. Additionally, there's often a dead end on one side.
It's hard to fit large appliances. The limited space makes it hard to fit big dishwashers and other appliances.
The countertop room you get isn't impressive. If you need a larger space to prepare food, consider putting countertops on both sides.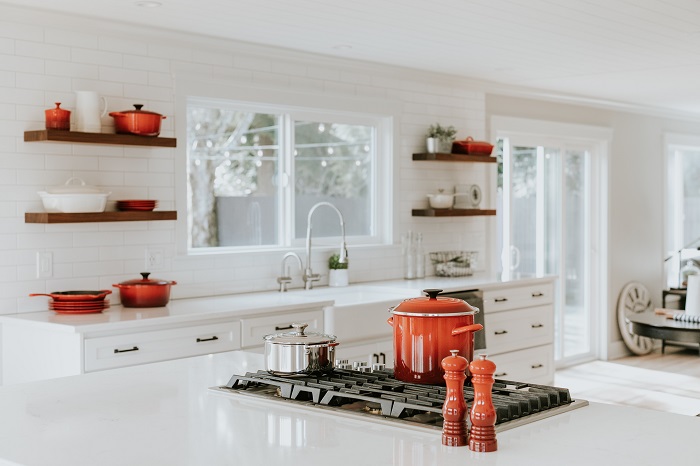 Galley Kitchen Remodel Tips and Ideas
Although offering a bigger space feel is the main reason why people go with a galley kitchen renovation, it can be a good fit for large areas, too. Here are some design ideas that will help when planning a galley kitchen makeover!
Paint the Walls a Space-Enhancing Shade
The cheapest way to "renovate" any room is to repaint the walls. Different colors will give the entire space a different feeling. You want a shade that creates an illusion of space. You can't go wrong with white cabinets, but walls are more important.
It's necessary to choose a space-enhancing color, so go with a light shade. Gray will fit a modern or traditional galley kitchen as a neutral color. Apart from the walls, don't forget the ceiling. Pick a lighter tone or even emphasize contrast by combining dark fixtures with a white or beige ceiling.
Add Windows and Let There Be Light
Natural light can make any room look more spacious. It can be a challenge but look for a way to secure sufficient sunlight in your kitchen. It's best to place windows on one side, but that requires having enough space for that move.
Galley kitchen remodels experts also suggest considering adding glass to the kitchen door. This "window" would connect the kitchen to the next room and secure light from it. It also makes the kitchen less isolated from the rest of the house.
Choose Understated Flooring
Your galley kitchen remodels ideas shouldn't involve much experimentation with the flooring. Abstract patterns attract too much attention and make the space crowded. Even simple square patterns aren't the best choice.
Instead, you want to go with wood floors. Pick light hardwood that looks classy but doesn't draw attention. These floors are an excellent fit for a classic or modern galley kitchen, and they won't be a significant item on your budget list.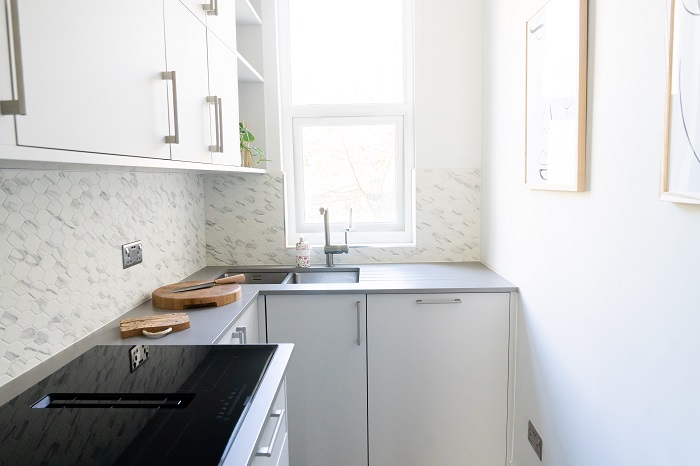 Unlike flooring, cabinetry is where you can get creative while you remodel galley kitchen spaces. If you prefer a modern approach, go with straight lines and avoid panel doors. The hardware shouldn't feature ornaments but be as simple as possible.
If you want to maximize the use of the space, consider adding upper kitchen cabinets. You can even pick a floor-to-ceiling set to secure more storage space. Either way, you get more space. If you want to create an illusion of a bigger area, a white backsplash is another smart move.
Install Island on the Galley Kitchen
The galley kitchen basics don't include an island, but how about spicing things up by adding this fixture? According to experts, you need at least 13 inches of space for an island and about 40 inches to move around it.
And the best part is you can go with a portable island. It's movable, which allows using it as necessary. During food preparation, you can remove it to have a better traffic flow. But once the food is ready, it can serve as a dining table.
The biggest downside of a galley kitchen is that it can look "boring." Even if you add open shelving and decorative elements, the design might not seem creative enough. If you want to make it stand out, the secret lies in using different materials.
Marble countertops are incredibly durable and look classy. You can combine them with stainless steel faucets and appliances. Glass fronts are an excellent addition to appliances and cabinets, primarily since glass reflects light and creates an illusion of space.
There is a lot to think about when remodeling a galley kitchen. We know how important it is to design a kitchen that is perfect for your family, so get in touch and we'll be happy to help create the ideal kitchen for your home. Remember, a family that spends time together in the kitchen is a happy one.
https://majesticcabinetsllc.com/wp-content/uploads/2022/08/aaron-huber-G7sE2S4Lab4-unsplash.jpg
463
700
Owen Wright
https://majesticcabinetsllc.com/wp-content/uploads/2019/01/logo-1.png
Owen Wright
2022-08-11 14:21:01
2022-08-04 14:23:21
How to Remodel a Galley Kitchen