If you are looking online to find remodeling tips and the perfect kitchen layout and floor plan ideas, you will find plenty of style suggestions and tips on the latest trends to follow. But it is also worth thinking about the opposite – the styles and kitchen cabinet trends to avoid. Finding the ideal design is equally as important as eliminating trends that are not practical or useful. 
You are presumably planning to use your kitchen for a long time, or at least more than a few years, before giving it a redesign. That means it is essential to find a style that doesn't just fit the current trends.
To make sure your new kitchen stands the test of time, pay attention to these kitchen cabinet trends to avoid:
Should You Match Every Possible Kitchen Detail?
This one goes for both the décor of the cabinets, walls and floor, as well as your kitchen appliances. Excessive color matching and monochrome kitchens can look great in a showroom or a carefully filtered Instagram post, but they have a few flaws in a natural home.
Firstly, they can highlight every scuff and other signs of wear, which means they can require more maintenance and repair if you don't want your eyes to be drawn to every imperfection when you walk into the room.
Secondly, single-color kitchens tend to go for a neutral color like white, which can look a bit flat and dull when not under perfect lighting conditions. On the other hand, a more vibrant color can be overwhelming and oppressive when not balanced by other color choices.
Remember that if all you need to restyle your kitchen is a fresh color scheme, you don't need to go to the expense and inconvenience of replacing all of your fittings. A professional cabinet refinishing can give your current cabinets a completely new look and style.
Matching the color of your appliances to the rest of the kitchen can make them blend into the background a little too much. This misses the opportunity to use them as an accent to your overall design. Instead, try giving your appliances a contrasting color to make them pop.
Whether to give your fridge and freezer panels to match your cabinets can depend on the situation. When arranged in a long line of cabinets, the fridge and freezer can help break up the monotony. However, in smaller spaces, paneled appliances might be better for maintaining a consistent visual theme in that part of the room.
Is Ornamenting Every Part of Your Kitchen Cabinets Worth It?
There is nothing wrong with scattering a few knick-knacks around the kitchen if you are going for a cozy or rustic look. Don't overdo it, though. Not every cabinet needs to be covered in ornaments, and doing this can make the room feel smaller and more cluttered, and messy.
Plants and other ornaments attract attention. Do you want to draw the eye up to the ceiling and corners and away from your new kitchen furniture and layout?
As a general rule, avoid ornamenting spaces with less than two feet of headroom. These can make the area feel claustrophobic and great at gathering dust. On the other hand, a few ornaments can help avoid having an awkward space between the tops of your cabinets and the ceiling in a room with higher ceilings. Big and bulky objects like baskets and jars work better for this purpose than narrow or spindly pieces that don't extend the height of the cabinet.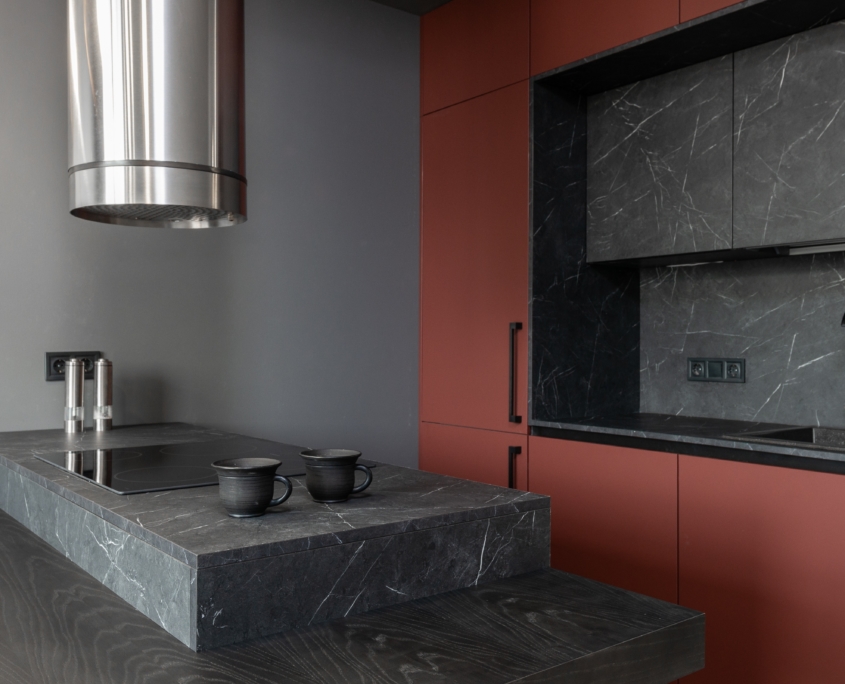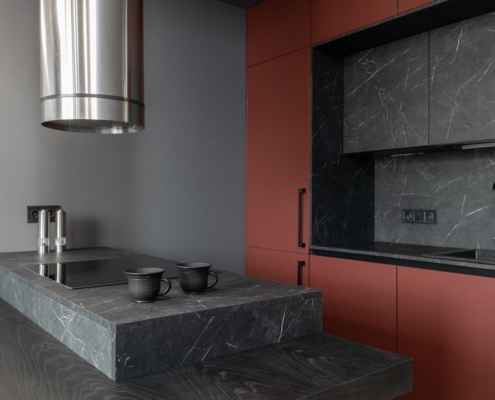 How to Avoid Wrong Countertops with Your Cabinets?
To find the right countertops to go with your cabinets, start with your kitchen's color scheme. Choosing countertops that contrast or compliment the color of your cabinets will help to define and shape the space more clearly than colors that blend together or match.
The material of your countertops is just as important as the color for giving your kitchen a complete and stylistically consistent feel. For example, marble can be a stylish and classy look for a modern kitchen, but it will look mismatched and out of place in a kitchen that is aiming for more of a rustic or homely feel.
On the other hand, you might have a countertop and perfect kitchen layout that you love already, but it just doesn't fit with the cabinets underneath. Instead of replacing everything, cabinet refacing can give it a totally new feel by replacing cabinet doors and handles.
One great trick to highlight your kitchen's centerpiece is to reverse the color scheme of the kitchen island or table and chairs in the center of the room. For example, if the rest of your cabinets are light with a dark countertop, swap to dark cabinets or chairs with a light counter or tabletop. Some kitchens even switch to a totally different style of cabinet and countertop for the island. This works best in larger kitchens, as it can make a smaller space feel cluttered or lacking in unity.
Do DIY Backsplashes Go With Kitchen Your Design?
The backsplash can make or break the consistency of your kitchen's design. Simply getting the size and placement right so that it doesn't look mismatched with the scale of the rest of the room can be challenging. This being the case, it is something best left to experts.
If you are set on doing it yourself, follow the same rules for picking a countertop material and color. Don't go with a backsplash that is not consistent with the theme and era of the rest of the fittings unless you aim for a deliberate fusion of the two styles.
While it can look great initially to have a backsplash that matches the color of your walls, this is not always the best option. If you have gone for a pale color on the walls like white, light yellow, or light blue, the slightest discoloration from the range will stand out.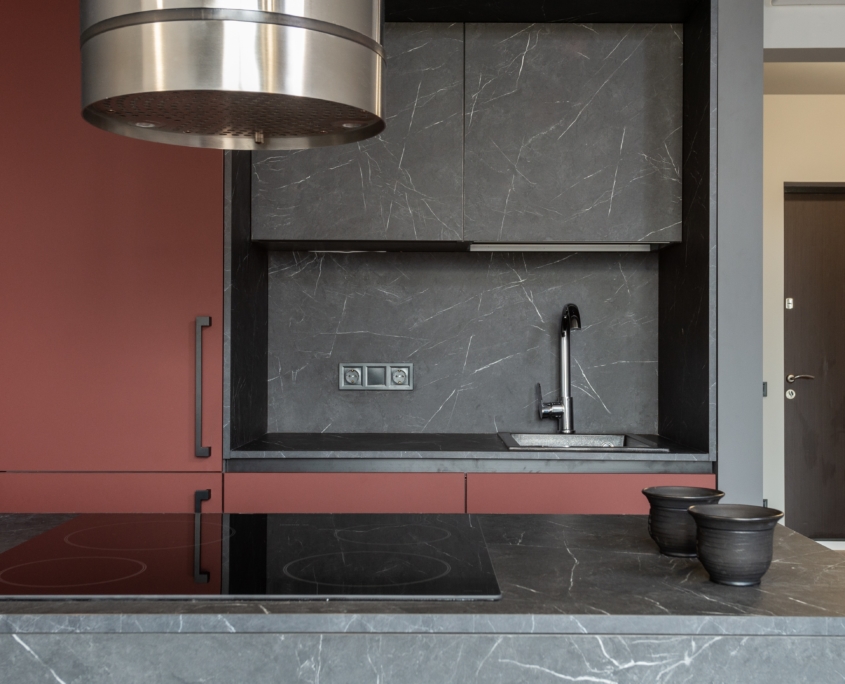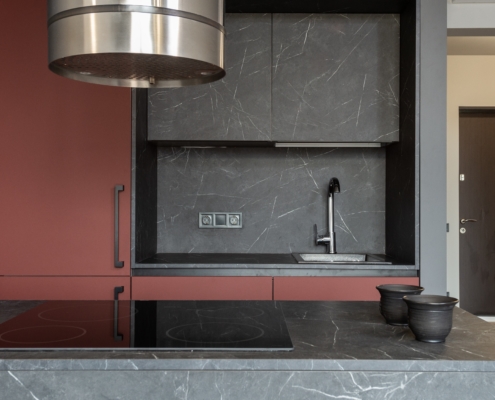 Should You Combine Laundry Room and Kitchen?
When deciding whether to combine your laundry room and kitchen, the first thing to consider is space. We believe that the answer to whether you should combine your kitchen with a laundry room depends on your space availability. Both choices offer great advantages to your home. Depending on the layout of your home, there might not be many places for your laundry appliances to go except the kitchen.
But if you do have the option of choosing either, which one should you go with? There are a few other factors to consider.
In a larger kitchen, laundry machines can go under countertops or cabinets without taking up extra space. In a smaller room, though, you might need all the cabinet storage space you can get, and a washer and dryer could take up a significant chunk of the room.
Putting laundry appliances in a separate room will also require installing the necessary plumbing and ventilation for those machines, adding to the scale and cost of a project. Another advantage of putting the laundry machines in the kitchen is that it puts all of your noisy appliances in one room. A separate laundry room means a second source of noise and vibration and is not masked by the everyday noise in your kitchen.
Conclusion
Whatever your kitchen remodeling plans, always consider the practical side of using the kitchen and style, and remember these kitchen cabinet trends to avoid. For expert help designing your dream kitchen, don't hesitate to get in touch with Majestic Cabinets.
https://majesticcabinetsllc.com/wp-content/uploads/2021/07/kitchen-trends-to-avoid-scaled.jpg
1708
2560
Owen Wright
https://majesticcabinetsllc.com/wp-content/uploads/2019/01/logo-1.png
Owen Wright
2021-07-29 05:45:26
2021-09-02 10:55:31
Kitchen Cabinet Trends You'll Regret: Ideas You Should Avoid