The whole world tends to go mad for Halloween. The spooky festival seems to get bigger every year, with more and more people going all out with some of the most impressive decorations you could imagine.
In this guide, we're looking into some kitchen Halloween decor. That's right, every room in your home should benefit from some of the decorations and that means that you can use your cabinets and other parts of your kitchen to get in the spooky spirit.
How to Decorate Kitchen Windows For Halloween?
There is a chance to be creative no matter where you are decorating, and specifically when you are decorating your kitchen windows. If your kitchen windows face outward onto the street then you can use this to your advantage and create decor that everyone can see as they pass.
You can use your window to add some spooky spider webs, which you can easily source online. You could also use a cheesecloth to create a creepy silhouette look or make your own spider webs.
There's a chance to use some lights here, and even the Christmas lights might look good in this scenario just as long as they've met with other scary decorations. Why not go for some creepy posters and stickers?
A kitchen window might even prove to be the ideal place to show off your pumpkin skills and place one facing out of the window.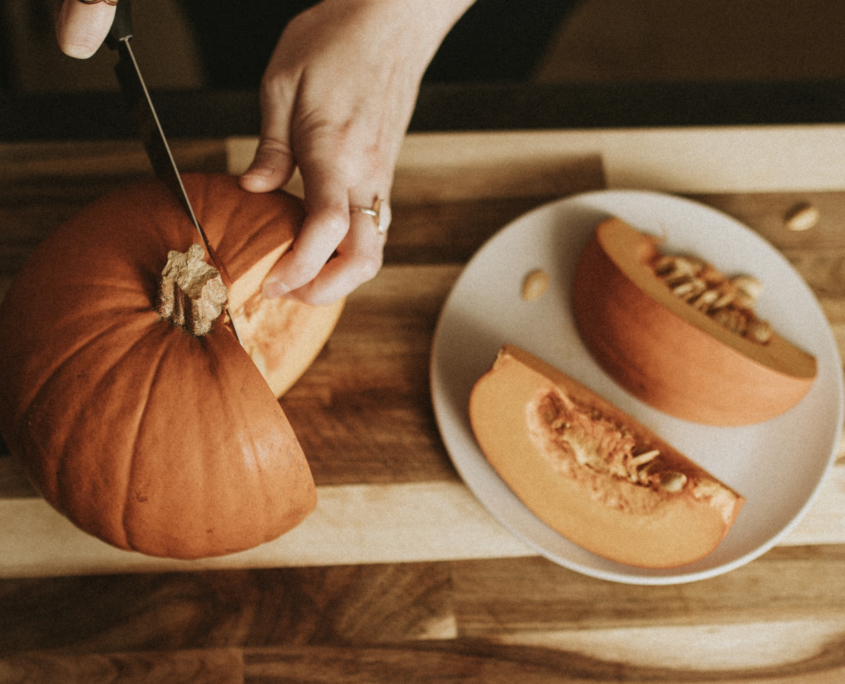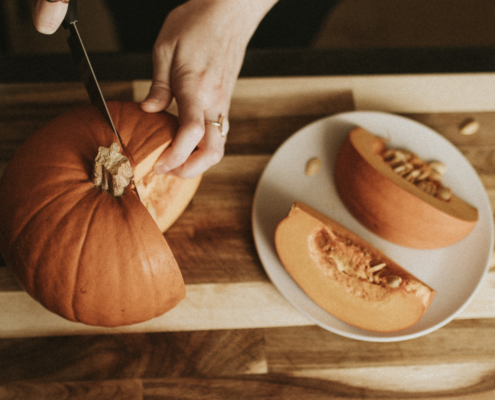 How to Decorate Your Kitchen Cabinets For Halloween?
Redecorating your kitchen cabinets for Halloween can be another option. There are a lot of decorations that you can either buy or make, perfect for use on kitchen cabinets.
Stickers are one of the obvious options, vinyl stickers can provide you with an excellent and easy way to decorate the cabinets. When you're finished, you can simply remove the stickers and not have to worry about too much clean-up.
The spiders' webs can be an excellent choice in this scenario, too. A bit of cheesecloth cut into shape will do the business.
The kitchen cabinets can be the perfect place to hang a Halloween banner, too. We love some of the homemade banners we've seen, which can include autumnal themes as well. Using pine cones and even autumnal leaves you have gathered can create a cool decoration and even provide the kids with an activity to carry out.
Can I Use My Kitchen Utensils For Halloween Decor?
Did you know that you can even buy specific utensils to use for Halloween decor? It is amazing how people get into the season so much. Did you know you can buy toothpicks designed to look like a witch's broomstick?
You can use your utensils in a creative way or create a fun and interesting display somewhere in your kitchen. We all know that ketchup makes great fake blood!
Some other creative things you can do with utensils include making your bowl and ladle look like a witch's cauldron. This helps if you create a bubbly and brightly-colored punch to go inside.
You can grab some stickers to put on other utensils and give them a Halloween look, too. One of the more creative uses for a Halloween party is even to ditch your drinks holders and use a carved-out pumpkin instead!
Never forget about the decorative help you can get from the humble jello mold! There are loads of molds out there that you can use on Halloween to create jello, jello shots, even ice cubes that have a spooky look to them.
What Should I Put On My Kitchen Tray?
If you are serving food for Halloween then this is the perfect opportunity to get into the spirit and create some really fantastic-looking decorations.
Serving up those snacks can be one of the better ways to make your kitchen look great at Halloween, and it is surprisingly easy to make some really cool decorations.
Using melted chocolate to draw spooky faces on halved bananas is one way to create a ghoulish-looking character that is delicious. Peeling oranges and adding a makeshift stalk can also make them look just like a pumpkin.
Never underestimate the power of googly eyes for making things look like characters. Add some googly eyes to an apple, cut in half, and add marshmallows through the middle to make it look like teeth. You can easily make some Halloween characters.
Drinks are another opportunity to make things look a little spooky. Adding some food coloring can turn your drinks into something that looks like it should be a potion…or worse!
There's plenty of opportunities to buy accessories for use in your kitchen around Halloween, too. Some of these can be purely decorative, like a crocheted pumpkin. Others can serve a purpose, such as napkins with spooky designs. The choice is up to you.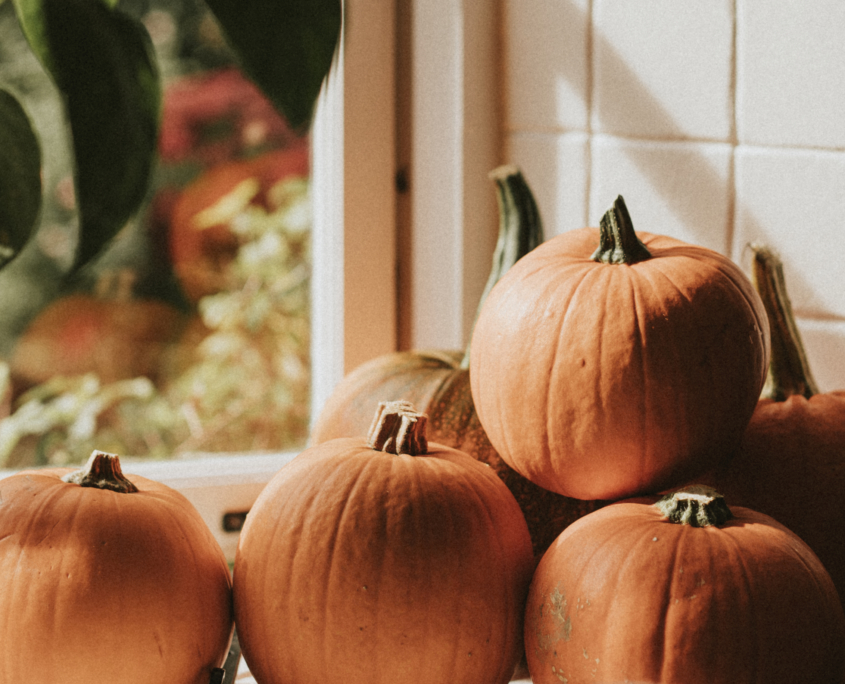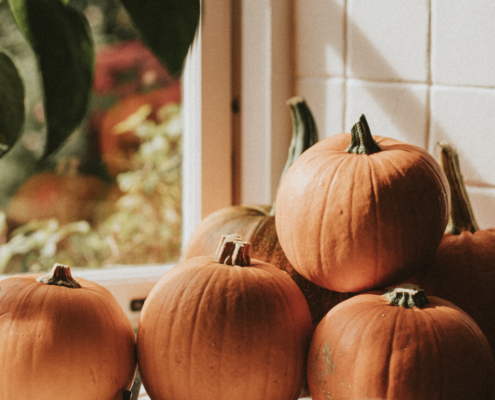 Where Should I Add Pumpkins?
As long as you are responsible with the pumpkins and try to avoid waste wherever possible, we'd say…everywhere!
Pumpkin carving is incredibly fun, and there are plenty of places around the kitchen and the rest of the home where you can include them. Kitchen cabinets are a perfect place to display them.
We definitely recommend having some at the kitchen window, and lit up with some lights inside these can be one of the coolest decorations. Whether you go for one massive pumpkin or lots of tiny ones, carving them into characters and creatures can be very enjoyable.
Beyond the kitchen, you can also add pumpkins outside the front door (perfect for trick-or-treaters) and anywhere else in the home where you think they will look good.
After carving pumpkins, you can use the seeds (roast them, or feed them to animals) or you can compost what is left. Pumpkins are pretty sustainable as long as you are responsible for what you do afterward, so you can put them to good use and carve to your heart's content. It's a fun activity for the whole family to enjoy together.
https://majesticcabinetsllc.com/wp-content/uploads/2021/10/Kitchen-halloween-decor-las-vegas-scaled.jpg
1758
2560
Owen Wright
https://majesticcabinetsllc.com/wp-content/uploads/2019/01/logo-1.png
Owen Wright
2021-10-26 15:08:03
2021-11-08 16:05:14
Kitchen Halloween Decor: Update Your Cabinets