How to layout a kitchen floor plan is a central part of kitchen remodeling. The shape of your new kitchen remodels floor plan will define how you get around the kitchen during everyday use, as well as how guests will be accommodated while entertaining. 
There are a few common types of kitchen layout:
U-Shaped Kitchen 
U-shaped kitchens are arranged around 3 of a room's four walls, leaving an open side to the kitchen to connect to a dining area or living space. These provide a functional and efficient work area with plenty of counter space and easy access to essential appliances like the oven and refrigerator. 
U-shaped kitchens are great for preparing large meals with plenty of room for you to cook while also feeling part of the rest of the room, thanks to the open area between cooking and dining space.
L-Shaped Kitchen
L-shaped kitchens are flexible types of kitchen layouts fitted into the corner of a room. They are great for making the most of a smaller room or for kitchens that form part of the living space. 
L-shaped kitchen layouts leave an open space in the center of the room that you don't need to access while cooking. This can be a spot to put the family table close to where meals are cooked and ensures the cook stays part of the conversation when entertaining guests. Alternatively, this area can be used as extra storage space or a kitchen island for an additional counter surface.
Whatever your remodel floor plan is, L-shaped kitchen layouts are rarely the wrong choice.
G-Shaped Kitchen 
G-shaped kitchens are very similar to U-shaped kitchens. In addition to the 3 sides of a U-shaped kitchen, G-shaped kitchens also feature a peninsular that extends partway across the open side of the kitchen. These can take up more space than other remodel floor plans but provide more freedom in terms of work surfaces. 
Furthermore, the kitchen peninsula has a multitude of uses as a social space throughout the day. It can function as a breakfast bar, provide a spot for guests to enjoy snacks and drinks while you prepare a meal, or enable other family members to sit and finish up their work while you cook.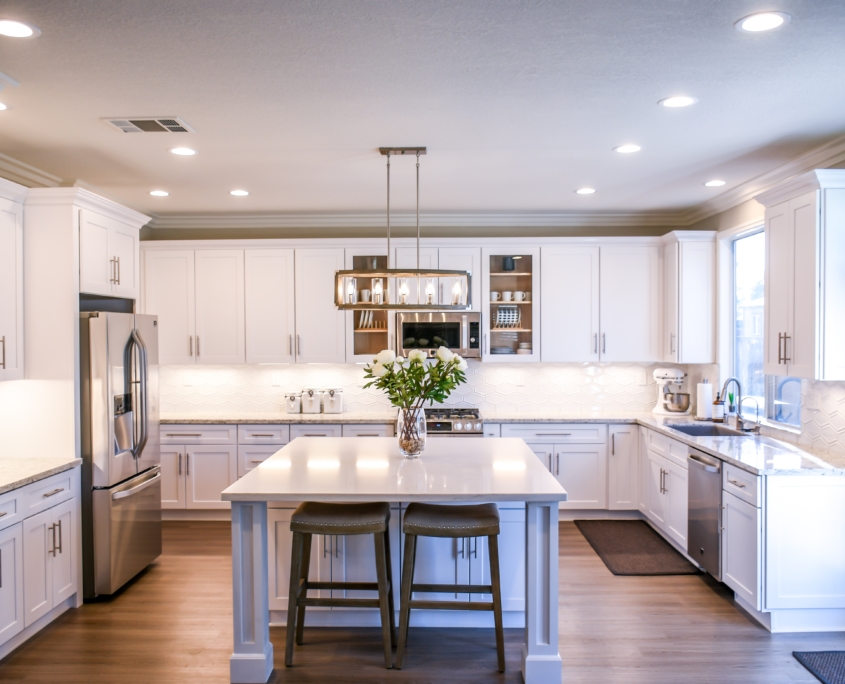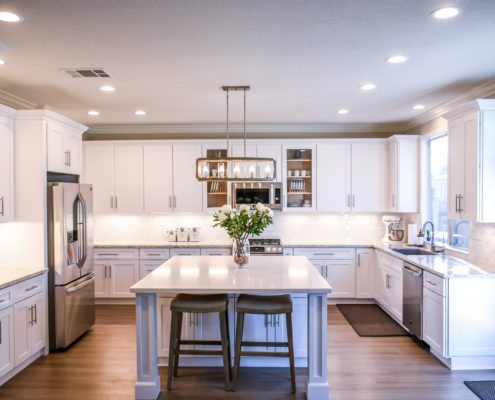 Straight & Simple Kitchen
The simplest type of kitchen layout, usually installed in smaller spaces, consists of cabinets and appliances against only one side of the room. These kitchen layouts will often use upper cabinets and other wall-mounted storage such as shelving to maximize space efficiency. 
This simple kitchen floor design keeps your cooking area within a narrow space, leaving the rest of the room open for use as a dining or living room. As a result, while it is commonly used as a space-saving measure, it can also aid in achieving a more open remodel floor plan in your home.
Corridor Type Kitchen 
A corridor kitchen, also known as a galley kitchen, is also relatively simple. Instead of having cabinets against one wall, there are cabinets on both sides with a corridor, or galley, in between. These maximize the use of space for work surfaces and storage, particularly in a smaller room; however, if the central corridor is too narrow, it can be difficult for multiple people to cook or use the kitchen simultaneously.
Tips For Your Kitchen Flooring 
There is a lot to consider when it comes to kitchen flooring in a remodel floor plan. The practical concerns of durability and ease of cleaning are just as important as the aesthetics here. 
Stone, ceramic, and porcelain floors are all highly durable and easy to clean, although some extra maintenance to reseal natural stone flooring may be needed every few years. Wood is excellent for creating a more homely, traditional kitchen look. However, it is a little less resistant to wear and tear than stone and will need to be adequately treated and maintained to prevent warping due to water.
It is a good idea to pick your kitchen flooring while choosing the color scheme for your cabinets and work surfaces. This way, you can select a floor that matches or contrasts against the colors and kitchen countertop materials used elsewhere. For example, you might choose to match hardwood countertops with matching wood floorboards or pair dark cabinets with a white tiled floor for a stark visual contrast.
Maximize Space Usage 
Think about how to layout a kitchen floor plan that will make the best use of the space you have available. 
As a general rule, kitchen islands and peninsulas, as well as corner cabinets, use space less efficiently than straight cabinets against a wall. Islands and peninsulas, in particular, can be an excellent addition to a kitchen when you have space, but when you don't, they occupy central floor space while giving less opportunity for storage space than wall cabinets which can be paired with an upper cabinet and shelving.
For narrow spaces, a straight or galley kitchen efficiently uses the length of the room to maximize the area you have to cook. In wider rooms, a U-shaped kitchen or G-shaped kitchen plan makes better use of the width, potentially leaving enough room for a table or island in the center. 
L-shaped kitchen layouts are good for kitchens of any size and are particularly useful for reducing the footprint of your kitchen in an open-plan home.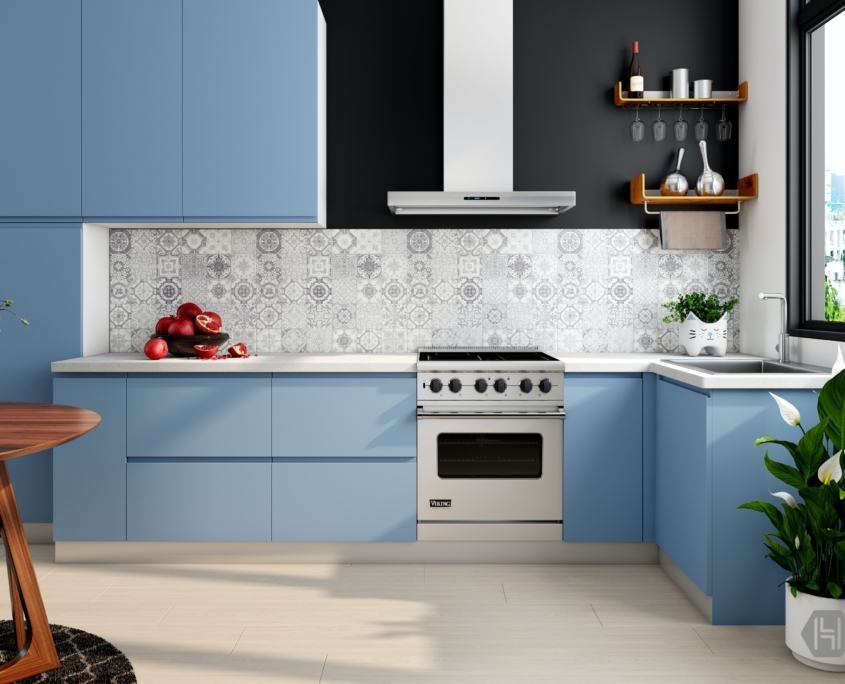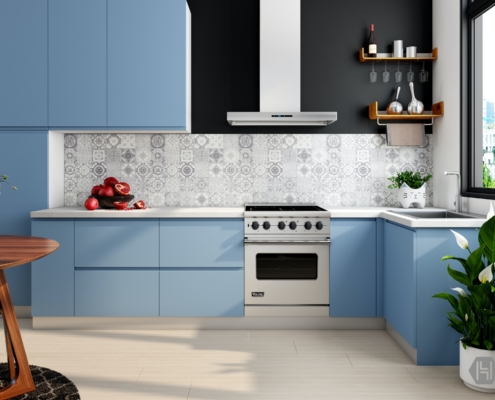 Adjust to the Traffic 
Kitchen Traffic Flow is an important consideration when picking a layout. In particular, the placement of doors in the room could preclude you from using certain types of kitchen layouts. For example, U-shaped kitchens and G-shaped kitchens require at least 2 walls without doors for a significant length and at least one wall with none. 
If your kitchen is an important path through your home leading to an entrance or living space, keeping the work areas in a corner with an L-shaped layout can prevent other family members from getting in your way as they pass through. If this is not possible, arranging appliances and work surfaces to avoid crossing that path as much as possible will improve the traffic flow through your kitchen.
In a narrow kitchen that leads to an exit such as the door to the yard, keeping all work areas to one side with a straight kitchen makes it easier for people to pass behind you while you are cooking, instead of bumping into you as you cross sides.
Use 3D Visualization
Online kitchen tools and software can provide you with a 3D visualization of kitchen layouts and designs. These let you get a good idea of how your kitchen will look and quickly alter the layout and color scheme to test out your ideas. Take the time to get the measurements, light placement, and color scheme as accurate as possible within the visualizer to get the best impression of how your proposed kitchen layout will really look.
Kitchen Floor Mistakes To Avoid 
The kitchen floor is one of the most inconvenient and expensive parts of a kitchen remodeling to replacing, so save you the trouble and get it right the first time by avoiding these mistakes:
Using the Floor Too Soon 
Depending on the type of flooring, it may be a few days before you can even walk on your new floor without risking damage, let alone installing any furniture or appliances. If someone is installing the floor for you, follow their advice on how long to wait, and if you are doing it yourself then research how long to wait for the materials and method you are using.
Cutting Costs On Labor
If you are a DIY pro and certain you know what you are doing then go ahead but otherwise, you'll want to pay for a top-quality contractor. Ensuring that a kitchen floor remains safe and structurally sound is a complex task, and going with the cheapest contractor is likely to cost more in the long run when you end up paying someone else to do it properly.
Ignoring Workflows
Your kitchen workflow describes how you move around the kitchen between appliances and work areas. Design a kitchen without considering this, and you might find it inconvenient and inefficient to cook in your new layout. 
The easiest way to approach this is to imagine a triangle with each point placed at your stovetop, sink, and refrigerator. Each leg of the triangle should be unobstructed and if possible, not cross any foot traffic through the room. Each leg should be around 3-8 feet. 
Expert Communication
Clear communication with your contractors is vital to ensure the end result is exactly what you were expecting. It is common for kitchen layouts to require small alterations during installation, for example, due to wiring or plumbing positioned in an unexpected way. Even for the smallest changes, make sure you get a full new plan that accommodates the changes and provides it to all contractors involved. A verbal agreement to make a change may not get passed on, resulting in some work not accounting for the alteration.
Conclusion 
There is a lot to think about when designing your perfect kitchen layout. A kitchen floor plan built to suit your family and lifestyle can be a huge improvement to your home. We know how important it is to design a kitchen that is perfect for your family, so get in touch and we'll be happy to help create the ideal kitchen for your home.
https://majesticcabinetsllc.com/wp-content/uploads/2021/06/Kitchen-layout-plan-scaled.jpg
1707
2560
Owen Wright
https://majesticcabinetsllc.com/wp-content/uploads/2019/01/logo-1.png
Owen Wright
2021-06-25 18:01:56
2022-12-06 15:19:47
Perfect Kitchen Layout And Floor Plan Ideas