Not all homeowners have the luxury of a large kitchen space. You just have to be creative in organizing and use every available space in your cooking area. There are tricks to avoid clutter and store cooking essentials in an orderly manner.
Get some inspiration from our kitchen storage ideas to make your space functional and less messy.
Pull-Out Pantry
Storage is the one thing that we don't have enough of in our kitchen. It's a matter of organizing and being creative in our kitchen storage ideas, or lack thereof. We have the pantry cabinets, which help us avoid clutter to keep the cooking area clean and orderly. 
Consider investing in pull-out pantry shelves to go with your custom cabinets to maximize your storage space. 
A pull-out pantry shelf is a combination of a shelf and drawer with a sliding mechanism that can be pushed back and forth, allowing access to the back and sides. This is made of steel, plastic laminate, or wood and does not need knobs or handles to open or close. Just hold the front of the shelf and pull it towards you until you can reach what you need.
Glass-front Cabinets
You'll just love glass-front cabinets as one of your small kitchen storage ideas to make your small space look larger and lively. 
Glass-front door cabinets come in many styles and designs from the sleek-looking single panel door to the four-panel door for a vintage feel. Think about frosted glass, clear glass, or textured glass depending on what you want to accomplish.
Display your chic fine china or dishware to make your kitchen appear classy and elegant.
Hang Boards & Plate Rack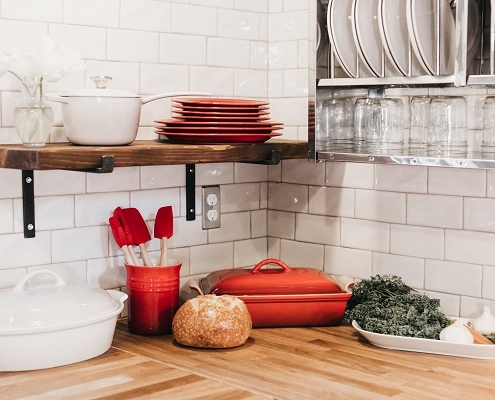 No kitchen space is small with your kitchen cabinet storage ideas. 
Discover the endless possibilities with hang boards and plate rack, if you don't have floor space, use your wall space.
This is very useful to people with limited space. Wall mount racks will allow storage of kitchen equipment, leaving room for things on the floor.
Their different height and depths serve as a kitchen cabinet storage solution to 3, 6, or more pieces of equipment. Use hang boards for your pots, pans, and cutting boards, also your plate rack will keep dishes out of the way. It keeps everything organized, so it's easy to find them whenever you need them.
Add Shelves in Your Backsplash
Paint your kitchen walls with any color you like, but your backsplashes will add style and functionality to your cooking space.
Want to add more pizazz? Get your wheels turning and ponder about creative kitchen storage using shelves in your backsplash.
Make a statement with your stove space and use tiles that will extend to the ceiling. Then add reclaimed wooden shelves that will work together with the design. Put your ornate wares on display and tuck the less attractive ones in the custom cabinets.
Sometimes a kitchen that is simple says it all. A natural wooden shelf mounted against a white tile backsplash keeps things light yet excites the eyes. Open shelves will keep usable space clear by adding extra storage and spruces up the place.
Include glass shelving in your kitchen storage ideas, tuck it underneath your mounted cabinets. It gives you space to place glassware and since glass is transparent it will give the effect that glassware is floating.
Wine Rack
Whether it's one bottle or 50, consider a wine rack as one of your small kitchen storage ideas to stock wine easily. Make your space give every appearance of being classy when placed on the countertop, the floor, or mounted against the wall.
If space is an issue, a wine rack is a sensible kitchen cabinet storage solution. Choose a rack model that holds six or 12 bottles and can be placed on a countertop. There are models that do the dual-task as a serving or end table. An iron rack topped off with wood or glass will give a positive statement to guests about the owner's elegant taste in design. These types of rack store wine, show it, and hold the bottle when uncorked.
Add Floating Shelves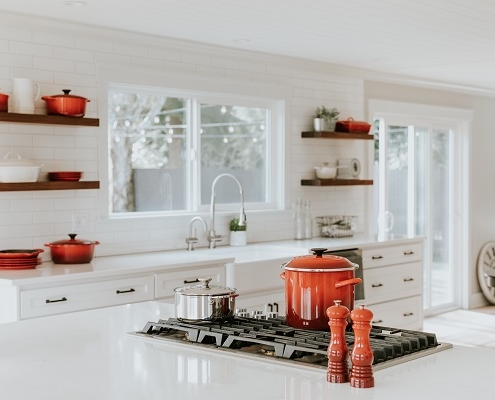 Embrace floating shelves in your kitchen storage ideas. It will trick your eyes into believing that wood is hanging in the air without any support. Floating shelves are a creative kitchen storage way of incorporating into your interior design since it is both striking and functional.
Walls will be less cluttered and overloaded given that floating shelves take less space and make way to truly display your pretty kitchen accessories.
The additional room around the gliding racks will make it more appealing to the eyes and gives the impression of a light atmosphere.
It is beautiful and unique making your wall look distinctive. Floating shelves will catch the attention of guests and will make your interior set-up look chic and classy.
Add a Crockery Unit       
If you have a small cooking space a crockery unit will be a great addition to your small kitchen storage ideas. Combine contemporary and traditional style of furniture with classy wooden shades of walnut, honey, mahogany, teak, and natural finish. The grains of the wood will add charm to the surrounding interior. 
The crockery units vary in design and capacity to fit your requirement.
This piece of furniture has glass doors to store your earthenware in an organized and neat manner.
Great kitchen cabinet storage ideas such as using a crockery unit will protect your earthenware from damage. No falling down or breaking because crockery units are built with specialized compartments for storing different crockery plates, cups, bowls, and glasses.
It is all-in-one furniture that has drawers, closed cabinets, a counter-top, and shelves. Do your kitchen chores on the countertop and the cabinets beneath can be used as a storage space for cutlery and other kitchen accessories.
https://majesticcabinetsllc.com/wp-content/uploads/2020/12/Majestic-Portfolio-1-1030x579-min.jpg
579
1030
Owen Wright
https://majesticcabinetsllc.com/wp-content/uploads/2019/01/logo-1.png
Owen Wright
2020-12-18 07:08:35
2020-12-29 14:20:16
Kitchen Storage Tips and Ideas That Can Make a Difference