The laundry room is often one of the most overlooked spaces in the home, but it's also one of the most functional rooms, responsible for housing your washer and dryer in order to keep your clothes, bedding, and other fabrics clean and fresh. 
It's also a room that often tends to be on the small side, as people don't want to use up too much floor space on laundry rooms, so you have to be very economical in terms of how you store all of the different items you need, getting innovative with your laundry room cabinets and storage solutions.
The average laundry room needs to house the actual washer and dryer, of course, but also needs to hold detergent, bleach, dryer sheets, fabric softeners, stain removers, and additional laundry supplies. 
It can also be a good place to store other functional accessories for the home, like spare towels, cleaning rags, cleaning products, ironing equipment, drying racks, laundry bins, and so on. With so much to store, you need to choose the right location, layout, and cabinets for your laundry room.
Where Should the Laundry Room Be in My House?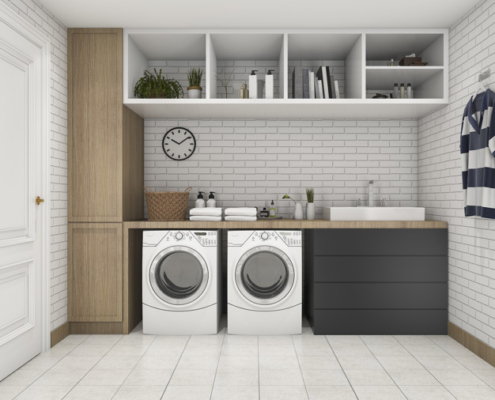 Before we take a closer look at some laundry room storage cabinets ideas and innovations you might like to try, let's first consider the room itself. If you're thinking of adding a laundry room to your home or building a new home and trying to find the perfect spot for the laundry room, you might have some questions.
The main thing here is to think practically. Your laundry room needs to be in a part of the house which is easy to access, so you don't have to carry huge loads of laundry up and down several flights of stairs just to get there. 
It needs to be convenient, and it has to have the proper plumbing and electrical points to cater to the washer and dryer, but you also need to think about the noise of the machines and make sure that they won't bother people trying to sleep in surrounding rooms. 
You'll also need to make sure the room is sufficiently spacious to accommodate the machines and other items you want to include, as well as being on a level floor that can support the heavyweight of your appliances.
Taking all of these factors into account, a laundry room can work well on the ground floor of your home, ideally near a kitchen or bathroom to make the plumbing easier to hook up. The basement is also a great location for a laundry room as the floor will be strong and solid and the vibrations of the machines shouldn't bother anybody.
Laundry Room Cabinets Design, Color, and Type
A lot of people want to make their laundry room look appealing and attractive, but aren't sure where to start. They may ask, for example, "Should laundry room cabinets match the kitchen cabinets?" or "What color and style is best for laundry cabinets?" 
Ultimately, the important thing to remember here is that your laundry room is yours. It's up to you to decorate it however you like, in a manner that pleases you and makes you happy. 
If the room is located beside the bathroom or kitchen, you certainly can carry the theme across to maintain a sense of harmony between the spaces, but there's also nothing wrong with going in a different direction and choosing a fresh and unique color palette for space.
The options are effectively endless for laundry room cabinets, walls, floors, and themes. You can go in any direction you like, but many people tend to like these rooms to feel light, open, and airy, contributing to the clean and fresh vibes associated with washers and dryers in general.
Lighter colors like whites, blues, and grays can therefore be great choices, especially if your laundry room is quite small, as this will help to open the space up and make it seem bigger. 
You can also choose between different styles of laundry room storage cabinets, including sleek and chic modern cabinets with minimalistic designs that work well in contemporary homes or more rustic cabinet doors with wooden features to fit in with more of a country-style property.
Laundry Room Storage Cabinets Ideas and Inspiration
There are a lot of different ways in which you can play around with the look and design of your laundry room and laundry room cabinets too. Here are just a few ideas to inspire you:
Contrast – If your washer and dryer are white, as many are, contrasting them with darker shades on the cabinets can be a great way to add some character to your laundry room.

Matching – On the other hand, matching the color of your laundry room storage cabinets and your appliances can also be a great way to go, allowing you to give the room a harmonious look.

Sleek – Opt for sleek cabinets without too much decoration or detail to create a laundry room with a very modern and elegant feel and aesthetic.

Traditional – You might also opt for a more traditional design with wooden cabinet doors that can work well in homes with rustic styles.

Light Tones – Opting for light and airy tones in your cabinets can help small spaces look larger, as well as helping dark or dimly-lit rooms feel brighter and more welcoming too.

Bright and Bold – If you love color and liveliness in your home, you might want to go a little wild in the laundry room with a totally original cabinet choice, adding splashes of bright and bold colors like reds, greens, or blues.

Above-Appliance Storage – It's common to fit laundry room cabinets directly above the washer and dryer, and this can be really convenient for storing things like towels, hangers, and detergent. Make sure you choose cabinets that are the right size for the items you want to store in them.
https://majesticcabinetsllc.com/wp-content/uploads/2021/03/3d-rendering-wood-laundry-room-with-concrete-wall_105762-600.jpg
417
626
Owen Wright
https://majesticcabinetsllc.com/wp-content/uploads/2019/01/logo-1.png
Owen Wright
2021-03-22 14:04:45
2021-03-23 10:28:51
Laundry room cabinets – tips and ideas