The bathroom might be the smallest spot in your house, but we spend a great deal of time every day to maintain hygiene and to prep each morning.
Since it has frequent visitors, you want it to look pleasant and appealing as the other spaces in your house. Decorating a small bathroom poses as a design challenge, it will stimulate your creative juices to come up with unique schemes. Any add-ons to a limited space can become clutter.
Grab some inspiration from these small bathroom ideas to make your tiny washroom look lovely.
Create a Wet Room
The concept of unobstructed interiors has been a focus in a small bathroom remodel. And wet rooms are classic examples of barrier-free interiors. Walls are raised from the floor, no inner walls, no door or shower curbs blocking the way, and a drain at the center of it.
Go beyond the customary designs, get the feel of fine-grained wood without using the real stuff. There are tiles that look like wood and it will add dimension and interest. Or use classic styling with stone-like tiles for a vintage-looking wet room that seems like it fits an older home that got style.
Use a glass panel or shower curtain to avoid any splash in the dry area.
Use Multi-Functional Furniture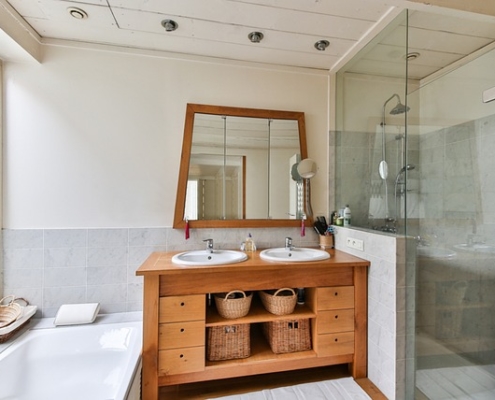 When you update the bathroom use multi-functional furniture to maximize the small space, you have as well as to avoid clutter.
A toilet and a vanity unit combined is a great two-for-one deal. It's a space saver and a storage space both above and below.
Give up the wall-mounted cabinets repair, knock it down and go for a multi-level storing unit. Use the shelves to display towels, sponges, plants, and other bathroom necessities. Movable tiered storage holds a great deal in limited spaces, and it can hang on walls or doors.
Install toilet cove shelves instead of cabinet refinishing. To achieve a rustic-inspired bathroom, consider using reclaimed planks to display or store items.
Aside from its use as a seat, a stool can be used to show your bathroom items and it won't take much space.
Be Smart with Cabinets
Bathroom makeover ideas from interior designers suggest that enclosures like wall cabinets eat space and make it look smaller. While it might make some space seem nice, it won't work in a small bathroom remodel. There is a tendency to hide things in the cabinet that serves as clutter, it attracts germs, and accumulates dust.
Make it Appear Big with Mirrors
The use of mirrors is one of the oldest methods to update the bathroom, it can alter the appearance and tone of the space. If it is on the small side mirrors can make it look big, they reproduce light and generate the illusion of space.
A mirror with a wooden frame will serve as a striking focal point atop a mini vanity.
A large mirror reflects its surroundings, making the bathroom appear twice as big.
Interior designers use mirrors as one of their bathroom makeover ideas.
Trick the Eye with the Tile
Most of us don't have the luxury of a spacious bathroom some small bathroom ideas with tiles will give you the virtual transformation that you wish. What is important is how you decorate and choose the right tiles. With myriad tiles to choose from decorating a small bathroom with the wrong ones will give you nightmares.
Here are some concepts to guide your selection.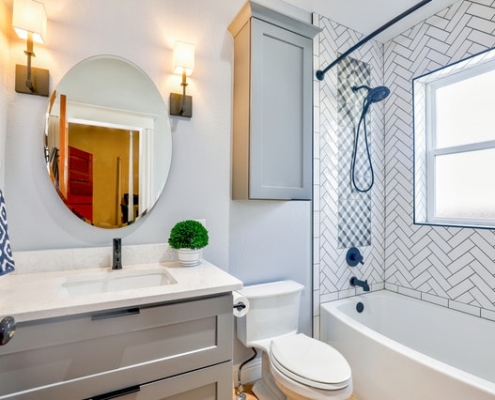 Size Does Not Matter
Either big or small tiles will do as long as the design fits your small bathroom ideas.
Large tiles will have lots of waste from cutting and interrupt the design, the decision is yours to make. Conversely, these will give a calm effect and make the tiny space look large. Jazz up your room with white or grey tiles that are rectangular-shaped.
Avoid mall bathroom tiles with a heavy design these stir up a busy feeling. Go for mosaic tiles with light colors and simple features this will serve as a stunning backdrop around the basin zone. Metro tiles are an ideal option for a small bathroom remodel.
Think About Patterned Tiles
Patterned tiles create a busy feeling, so practice caution when you're using this style. The floor space is a giveaway. to keep the eyes glued consider some patterned floor tiles in your small bathroom ideas. This is will make the room larger than it is without cramping.
Consider Tiles With Reflective Surfaces
Tiles with glossy, glass, or mirror finish will reflect the light to create a feeling of space.
Tile Floor to Ceiling
Tiling the from floor to ceiling provides a sense of continuity making the small bathroom feel spacious.
Keep it Simple
If you're having difficulty in figuring out your small bathroom remodel, just keep the design simple.
Taking down those well-placed bathroom cabinets might be costly and tedious than some DIY cabinets repair. Some materials, your time, and the proper tools will do the trick. A bit of cabinet refinishing afterward by stripping, sanding, priming, and then painting. After the grueling task, you'll be rewarded with a good-conditioned cabinet and nice-looking small space. Importantly, you did it.
The right lighting system and light shades will add freshness. Coat your shelves, cabinets, and some decors with the same light tint for a unified appearance.
For small bathroom ideas select simple furniture and avoid clutter to make it look spacious.
https://majesticcabinetsllc.com/wp-content/uploads/2020/10/pexels-terry-magallanes-2988865-1.jpg
427
640
Owen Wright
https://majesticcabinetsllc.com/wp-content/uploads/2019/01/logo-1.png
Owen Wright
2020-10-19 19:44:27
2020-10-19 19:44:27
Small Bathroom Ideas With Style & Function